Where: Los Angeles
What: Family-Friendly PlaceList
Who:
Jill Burrows fell deeply in love with Moroccan babouches 15 years ago while living in London working as a graphic designer. The only problem: she could never find the right color combination for her ideal house slipper. So, she did what any sane, entrepeneurial creative would do and made her own
eponymous babouche line
.
"With a babe crawling on the floor, I stopped wearing shoes in the house and couldn't find anything I loved the style and feel of. So, I finally designed my own babouches and had them handmade right here in Los Angeles," Burrows says. Each slipper is created with high-quality leathers to ensure a simple, comfortable and fashionable footwear when you're lounging at home."
When Jill isn't cobbling away, she's the proud mother of two mini ballerinas, Poppy and Elsie. Poppy, 8, has a wicked imagination and a love for food while Elsie, 4, is a daredevil who loves to climb and make people laugh.
The Burrows Family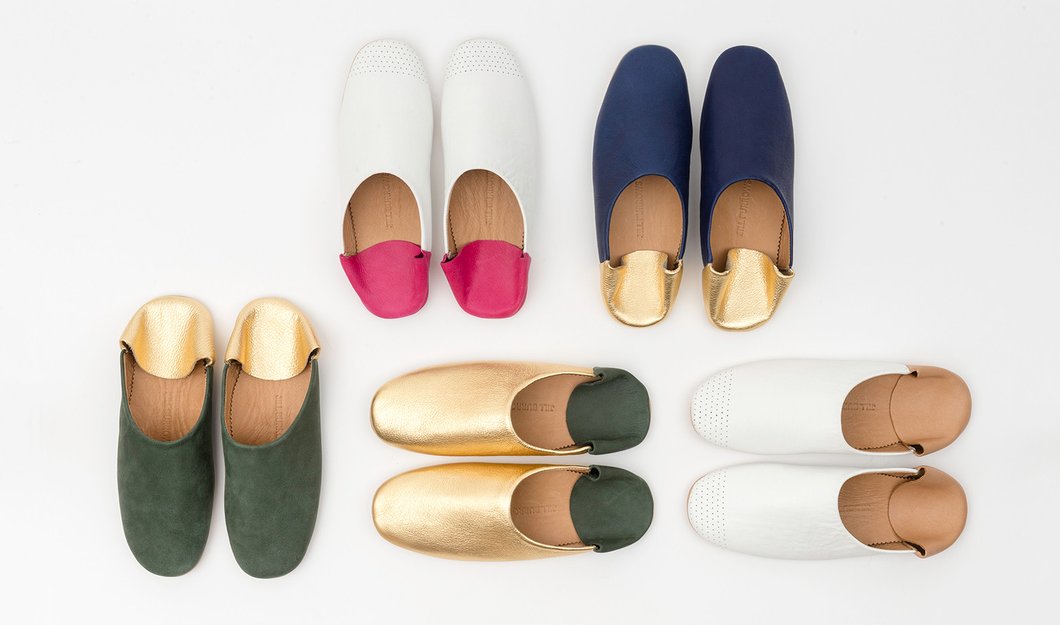 Shop your own pair of babouches here
We caught up with Jill to for her family-friendly guide to downtown and the Eastside.
McConnell's
Los Feliz
Jill Burrows:
We've been going to the original McConnell's in Santa Barbara for years, so we're ecstatic to have this one so close (peppermint stick ice cream for me!).
Go Get Em Tiger
Los Feliz
JB:I've had breakfast dates with my older daughter at GGET on the patio. I get the Adobo Grain Bowl with mushrooms; she likes the scrambled eggs and biscuit.
Dinosaur Coffee
Silver Lake
JB: We spend a lot of time at Dinosaur and Broome St. General Store because they're across the street from our kids' two schools. The owners of both have kids and kids are clearly welcome. At Dinosaur, chocolate doughnuts are a hit on the weekends.
Broome St. General Store
Silver Lake
JB: Broome Street is a real community hub–we always run into friends there. They have great gifts and it's the only place open early when you need a last-minute present for a 10 a.m. birthday party!
WOOD Pizza
Silver Lake
JB: This is our go-to family dinner spot. We go during happy hour and have wine, margherita pizza and the grilled salmon with tzatziki. It's all delicious and the kids like watching the pizza going in and out of the oven.
Descanso Gardens
La Cañada Flintridge
JB: We spend a lot of time at Descanso Gardens. We can get there in under 20 minutes on the weekends because the traffic is so light on the 2. Beautiful gardens, woodsy areas for more adventure, a kids' train and maze ... and there's even a cafe.
Hauser & Wirth
DTLA
JB:
This is my kind of place. Something for everyone in the family. You can walk around the exhibits and then head outside to check out the garden and the chicken coup. All with hardly a need to hush the kids. And you can eat at

Manuela

I'm from the south, so they had me at pimento cheese. And hush puppies. And collard greens. Check the calendar for family days when they have kids' activities outside.
Pitchoun Bakery & Café
DTLA,$$
JB: When the skating ring opens up in the "colder months", first we go to Pitchoun. We're all pretty passionate about pastries and bread, and Pitchoun is top-notch.
Pershing Square

Ice Skating (November)

DTLA

JB: Then we head over to the ice skating rink where I've convinced my older daughter that I'm a real pro (thanks for the lessons, Mom and Dad). It's not too crowded in the morning, so great for our young kids.We do this outing every year to pretend it's a proper winter.
Millennium Biltmore Hotel
DTLA
JB: After ice skating, we walk over to the Biltmore because Poppy and Elsie love the grandness of it, and well, there are no cleaner bathrooms to take kids than in hotels.
The Bob Baker Marionette Theater
Echo Park
JB: If you haven't been here, you must go. Even if you don't have kids. The puppets are works of art, and the 40s music makes it totally unique (and hilarious). The whole production is so fun. It's just a real LA treasure.
Millard Falls
Altadena
JB: My husband is a big hiker, but I'm a bit of a wimp and our kids are young. Millard Canyon Falls is a hike that we all get excited about. After you walk up the beautiful trail, you're rewarded with a waterfall. Just be sure not to miss the sign that says, "waterfall this way," or you'll end up on another route with disappointed kids. Parking fills up quickly, so go early.