Where: Los Angeles
What: Costa Mesa PlaceList
Who: Sidecar Doughnuts co-founders Chi-Lin and Sumter Pendergrast are lovers of coffee, community, each other and, you guessed it, doughnuts. In 2012, they noticed 17th street in their hometown of Costa Mesa transforming from a sleepy stroll into a diverse and throbbing thoroughfare. Inspired by the tight-knit and collaborative community, the Pendergasts set out to bring the good people of Costa Mesa the freshest doughnuts in the world. The sweet combination of farmers market fresh huckleberry doughnuts and signature coffee blends from Stumptown quickly stole the hearts of the neighborhood, so they opened up a second shop in Santa Monica. Below, Chi-Lin takes us on a tour of Costa Mesa and beyond.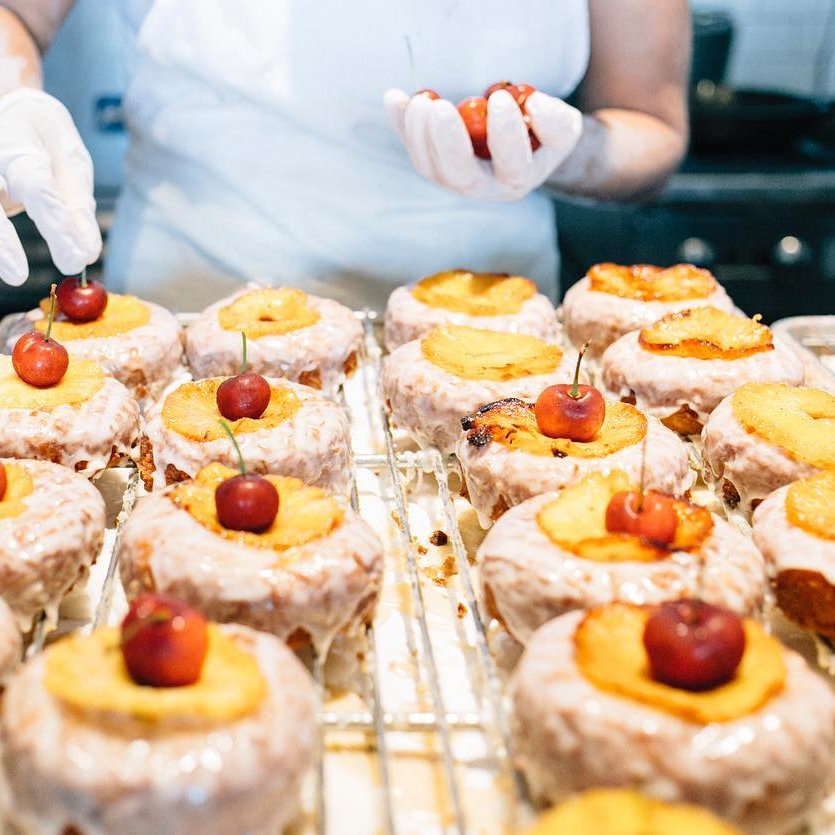 Images courtesy of @sidecardoughnuts
Mendocino Farms
Chi-Lin Pendergrast: Our flagship location in Costa Mesa is, more than anything, based on the fact that it was near our home and we were looking for a place to serve our own local community. The area has continued to grow and grow and we've loved being a part of it. In fact, that is how we ended up in Santa Monica! Mendocino Farms opened up down the street from us on 17th in Costa Mesa and we became friendly and really just fell in love with each other's brands. Just as we were looking to expand to a second location, they approached us about one in Santa Monica. And, as it turned out, the Santa Monica location was very similar to our Costa Mesa spot – right on a main road, Wilshire Blvd., and surrounded by neighborhoods. So it was perfect!
ENC (
Environmental Nature Center

)

CP: ENC is a random amazing little sanctuary in the middle of Newport Beach with a wonderful back story I love. Basically, when Newport started to grow a few years ago, a few people decided to make this really cool and unexpected place into a community to preserve its natural beauty. It's turned into an unbelievable place for education and exploration. There are weddings and camps, all based on being green. My favorite part is simply walking along the trails because on a really, really hot day it always feels refreshing.
Company of Angels
CP: This is the gift shop at The Waldorf School in Costa Mesa, and since our kids go to school here, I've been lucky enough to discover this gem of a shop. They sell Waldorf-inspired items, but also tons of great local made goods like toys, jewelry, cosmetics, handmade pieces. It's one of my favorite places to shop for the holidays.
The Bluffs
CP: This is an area right across the street from Waldorf, so after I drop off the kids for school, or when I pick them up, it's a beautiful place to go walk around. If you go there in late March/April, it's one of the most beautiful places in Southern California. Plus, nobody really knows about it!
A'maree's

in Newport Beach

CP: Amarees is my all time favorite store and one I visit as if it's a gallery. I walk around looking at the clothes and jewelry like I'm looking at art as they are truly amazing pieces you will own for your entire life. With an open kitchen and a patio, you can enjoy one of their housemade grapefruit cocktails and whatever else may be on the menu that day. One time I was there, a friend of the owner's pulled up to the back of the shop in a boat with a giant, freshly caught tuna. Next thing we knew, we were all being treated to the most delicious sashimi. It's such a cool combination of warmth, hospitality and fantastic shopping.
Common Room Roasters
CP: If we're not at Sidecar, you'll find us here having coffee. It's owned by a rad couple from Melbourne, Australia who runs a big ad agency. When they were expanding to the US, they decided to bring along their coffee guy, Ed. Ed would come to the Melbourne offices every day and make unreal coffee for all of the employees. Once they arrived in the states, the duo decided Ed was too good to keep to themselves. Now, they've developed their own spectacular coffee. The space is filled with wonderful vibes and is very community oriented.
Heritage Mercantile Co.
CP: This shop is located across the street from Sidecar Costa Mesa. Jen, the owner, has put her cool spirit and personality into this place, you can feel it the second you walk in. She's used that spirit to carefully curate a really great shop full of goodies; this is another one of my go-to spots for gift shopping.
Balboa Island
CP: Standup paddle boarding around Balboa Island and the Bay is one of our favorite activities. It's awesome to see all the houses and activities happening on the island. If we're with the kids, it's fun to take a break and stop at the mini beaches all around the island. Or if it's more for a workout, we will actually go around the entire island.
Aleph Gallery

on Lido Island

CP: Another one of my all time favorite places to shop. My friend, Mimi El Zein, owns it. She grew up in Beirut and Paris, and has the warmth of the sun and an impeccable sense of style—my favorite combination! I love her store because she brings beautiful items - home accessories like pottery, ceramic, trays, glass vases, art, furniture, some clothing—that are new, timeless and unique, from artisans from around the world.
Little Saigon

in Fountain Valley for Pho

CP: It's one of those things that just hits the spot. It's not high on style in there, but it's all about personal nostalgia for me. The people working there are straightforward and lighthearted; the same goes for the decor. The food comes out in about two minutes and it's spectacularly delicious. Oh, and the bill is usually less than $25 for two people!
Pork Belly Club farom @mendocinofarms